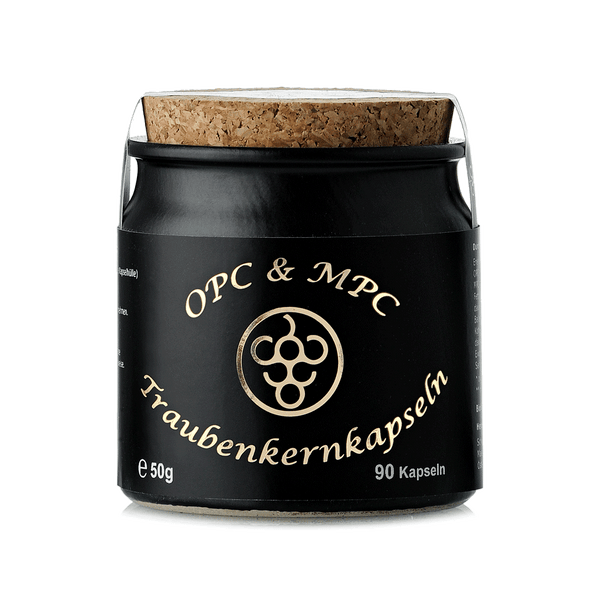 OPC & MPC grape seed capsules half-year package
The plant compounds OPC and MPC in the seeds of grapes are among the strongest natural antioxidants of all available foods. These antioxidants can bind the free radicals in our body, which are caused, for example, by inflammation, environmental pollutants, UV radiation or the use of medication. The free radicals cause oxidative stress and play a major role in many diseases.
According to numerous studies, OPC and MPC may help in case of the following points:
• prevention of cardiovascular diseases
• inflammation and improving wound healing
• high blood pressure and high cholesterol
• allergies and asthma
• diseases of bones and joints
• neurodegeneration and memory improvement
• skin problems such as eczema and psoriasis
• strengthening of collagen and thus the connective tissue in skin, hair, teeth, bones and blood vessels
• eye problems
• antiviral and antibacterial effects
From harvesting the grapes to filling the capsules, everything has been done by hand within our family. We only use our biodynamic grape seeds from our vineyards that have never come into contact with pesticides as our winery has been organic since generations.The fact that our grape seeds are free from pesticides is essential because the pesticide residues are particularly well stored in the seeds and consequently undermine the positive effect of OPC and MPC. Our grape seed capsules have a high grape seed oil content of 16.4 %, which is essential for the absorption of the ingredients. (No waste product from grape seed oil production!)
In addition, we have filled our grape seed powder in vegan pullulan capsules. These capsules differ significantly from conventional HPMC capsules, as pullulan protects the product from oxidation 300 times more than HPMC. As a result, we have a very high bioavailability of OPC and MPC.
The recommended dose is 3 capsules a day and should best be taken throughout the day with plenty of fluid.
The oligomeric proanthocyanidin (OPC) content is 25mg per daily dose according to the most reliable measuring method HPLC. The monomeric proanthocyanidin (MPC) content is 59mg per daily dose. It is important to know that according to scientific studies, MPC is 20 times more bioavailable than OPC. 59mg MPC would therefore be 1180mg OPC in bioavailability.
Last but not least, the grape seed capsules are filled in a high-quality ceramic jar. The label can be peeled off and the jar may be reused. For example, it works particularly well in the kitchen as a spice jar.😊
Size
6 x ceramic jar
Quantity
6 x 90 capsules = 300 g
ingredients
grape seed powder (90%), pullulan (10%, plant-based
capsule)
Nutritional value
| | |
| --- | --- |
| nutritional value | per 100 g |
| OPC | 1,66 g |
| MPC | 3,91 g |
| unsaturated fatty acids | 14,40 g |
| fibre | 60,00 g |
recommended dose
3 capsules a day with plenty of fluid